Feed Provided By MacRumors - News and Rumors
---
Robotics and Machine Learning Expert Yoky Matsuoka Returning to Nest After Leaving Apple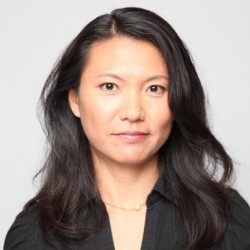 Last May, Apple hired Nest's former Vice President of Technology, Yoky Matsuoka, to help run the company's health initiatives, but she ended up leaving Apple towards the end of 2016. Matsuoka is now joining the Nest team once again as the Alphabet-owed company has re-hired the robotics expert as the Chief Technology Officer for the Nest Learning Thermostat (via Bloomberg).

In her new role, she will "define a long-term technology roadmap" for the smart home accessory company, using her expertise in machine learning.

Matsuoka is also said to be encouraged by Alphabet to identify other companies under the corporate umbrella where Nest might be able to form a beneficial partnership through collaborations "on technology and product development."

Alphabet Inc. re-hired Yoky Matsuoka to oversee technology at its Nest Labs Inc. smart home unit, snapping up the robotics and artificial intelligence expert after she recently left Apple Inc.

As Chief Technology Officer, Matsuoka will work closely with Nest's engineering and product teams to define a long-term technology roadmap. She'll be responsible for identifying important enabling technologies for Nest products and services, such as sensors and machine learning, while partnering with outside companies.
During her time at Apple, Matsuoka worked under the company's chief operating officer Jeff Williams, who is in charge of Apple's health initiatives like ResearchKit, HealthKit, and CareKit. Originally at Nest, Matsuoka developed the technology that lets the Nest Learning Thermostat adapt to environmental conditions and learn from past usage. She also co-founded the experimental project lab Google X, which has created Google's self-driving car and Google Glass.
Matsuoka was part of Nest when it was founded by "iPod father" Tony Fadell in 2010, but Fadell has now
left the company
, noting in a blog post last summer that it was the right time to "leave the Nest." Since he left, Fadell has become an advisor to Nest and Alphabet CEO Larry Page. According to
Bloomberg
, Matsuoka's return to Nest might help lead to a smoother 2017, following a few years of protracted product releases and
recalled devices
.
Discuss this article
in our forums
... Pubdate: Tue, 24 Jan 2017 06:17:04 PST
Apple Working on 'Enhanced Siri' Capabilities for Next-Generation iPhones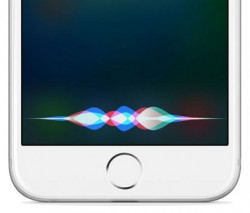 A collection of the world's top-selling smartphone makers, including Apple, Samsung, Huawei, LG, and Xiaomi, are all planning to double down on artificial intelligence features on handsets launching this year, and beyond.

According to industry sources (via DigiTimes), the companies are hoping an improvement to AI assistant capabilities will "ramp up market shares in 2017."

For Apple, that means the company is gearing up to add in an "enhanced Siri" to next-generation iPhone devices, although it's unclear whether that means the upcoming 2017 iPhone 8, or another model launching after this year. It's not specified what exactly an enhanced version of Siri will be able to accomplish, but an overall improvement to voice recognition and better contextual understanding of user requests might be part of the update.

DigiTimes' report specifically references Apple's acquisition of machine learning and AI startup Turi last August as a way that the company intends to bolster Siri's reliability with consumers, "as well as the market share" over other AI assistants like Amazon's Alexa, Microsoft's Cortana, and Google Assistant.

Smartphone vendors, including Apple, Samsung Electronics, Huawei, LG Electronics and Xiaomi Technology, are likely to introduce models featuring AI (artificial intelligence) applications as a means to ramp up market shares in 2017, according to industry sources.

Apple acquired Australia-based machine learning startup Turi in August 2016, aiming to further strengthen the functionality, as well as the market share, of its Siri intelligent personal assistant. Meanwhile, market sources have also indicated that Apple's next-generation iPhone devices are likely to come with enhanced Siri.
In terms of competition, Huawei -- as the third-largest smartphone maker in the world -- is reportedly ready to battle Apple and Samsung, with AI as a leading feature. Huawei recently launched the Mate 9 in the United States
with Amazon's Alexa voice assistant pre-installed
, giving users an easier way to navigate the smartphone, and representing its first move in the fight to overcome Apple and Samsung in the AI space.
Google last year
launched its Google Pixel smartphone
with Google Assistant, and other smartphone vendors have already been looked at to promote adoption of the Assistant, including Xiaomi. In a comparison
video that pitted Siri against Google Assistant
, YouTuber Marques Brownlee ultimately discovered that while Siri gave him more information, Google Assistant was the more personable and enjoyable AI experience.
Samsung is believed to be launching the Galaxy S8
sometime in Spring 2017
as an attempt to put the
Note7 in the past for good
, and the new smartphone is currently rumored to include an AI assistant named Bixby, "which is likely to become a main feature of Samsung's next-generation flagship model," according to industry sources.
LG is said to be in talks with both Google and Amazon to leverage each company's voice assistant in LG products, including the addition of
Alexa into a collection of LG home appliances
, as well as its
upcoming smartphone the LG G6
.
AI assistants have become increasingly popular over the past few years, and Apple has only gained competition in the space as Siri remained largely unchanged over the past few iOS updates. The company is rumored to be
launching an Echo-like speaker
as well, which would place Siri as a constant present in the user's home and include the ability to play music, get news headlines, and more, without needing to interact with their iPhone. In response, last year it was reported that Amazon is working on an updated Echo with a 7-inch touchscreen to "
fend off competition
" from Apple and Google Home.
Discuss this article
in our forums
... Pubdate: Tue, 24 Jan 2017 05:22:39 PST
Modular Band Links Could Expand Functionality of Future Apple Watches Apple continues to explore how wristbands might augment the feature list of future smartwatch models, as shown in a new patent granted today.

First picked up by AppleInsider, the U.S. Patent and Trademark Office published details on Apple's designs for "Modular functional band links for wearable devices", which first surfaced last April.

The patent describes a band made of a series of modular links containing electronic components, which are attached to each other using a flexible conductive material.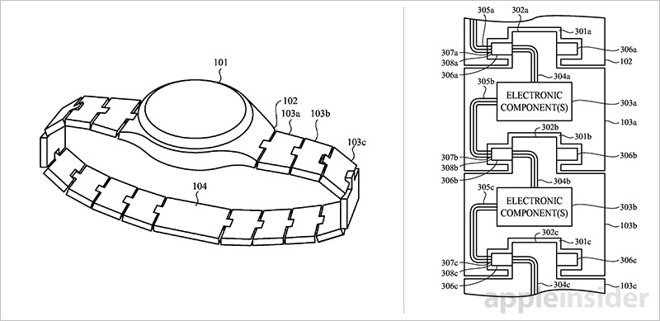 A number of possible uses are mentioned for the linked design, including batteries, speakers, kinetic power generators, haptic feedback devices, and more. Biometric sensors are also covered, such as blood pressure monitors and sweat sensors.

The modular accessory links are arranged serially across a power circuit and communications bus, with module control achieved by way of a unique identifier assigned to each link. In one example, an audio signal is sent from the timepiece through the chain of linked modules and activates only those modules assigned with a particular identifier.

Other examples describe links being used as external ports for interfacing with off-device components such as expandable memory modules. In most of the embodiments, the modular links connect to a 6-pin diagnostic port on the watch.

As always, there's no suggestion that the invention should be expected to appear in a finished product, but the patent does highlight Apple's continuing search for ways to expand the capabilities of a future Apple Watch or other wearable beyond the chassis, which could ultimately extend the life cycle of the watch body and allow future updates to come in the form of new band accessories.


Discuss this article
in our forums
... Pubdate: Tue, 24 Jan 2017 03:46:26 PST
Record Chip Profits Boost Samsung's Fourth Quarter Earnings Samsung announced fourth quarter operating profits of $7.9 billion in its earnings call on Tuesday, 50 percent higher than the same period a year ago.

The number was in line with Samsung's guidance earlier in the month and reflects record-high earnings from its memory chip division, glossing over the company's fire-prone Note7 woes, which are said to have cost it at least $5 billion since the third quarter.

But the results also come on the back of strong sales of the company's Galaxy S7 and S7 Edge phones, apparently confirming reports that suggested most consumers stayed loyal to the brand despite the absence of the Note7, which was considered to be the closest rival to Apple's iPhone 7.




Samsung said its mobile division generated $2.1 billion in operating income over the last three months of 2016 – an increase of 12 percent over Q4 2015 – while its display business racked up $1.1 billion, thanks to rising demand for the company's OLED mobile displays. (Samsung is also said be the sole supplier of the displays for the 2017 iPhone 8.)

During Samsung's conference call, the company offered a preview of its mobile business plans for the year. As expected, Samsung said its next round of smartphones would include voice-activated artificial intelligence features – leaks suggest the Siri-like feature will be called "Bixby". The South Korean firm also said it would be releasing a phone with a "differentiated design", leading some to speculate that a rumored foldable handset is almost ready for market.

The results appeared unaffected by the scandal surrounding Samsung president Park Geun-hye, who is under investigation over alleged bribes paid to an associate to win support for a merger of affiliates in 2015.


Discuss this article
in our forums
... Pubdate: Tue, 24 Jan 2017 03:03:22 PST
WhatsApp 2.17.1 Ups Bulk Media Message Limit, Adds Offline Message Queueing and Storage Management WhatsApp for iOS received an update today, bringing some additional improvements to the messaging platform.

For the first time, users can now tap "send" on messages when they don't have a connection, and the messages will be sent when a data connection is re-established. Multiple messages can be queued up in the offline mode, so users are free to carry on their side of a conversation until connection resumes.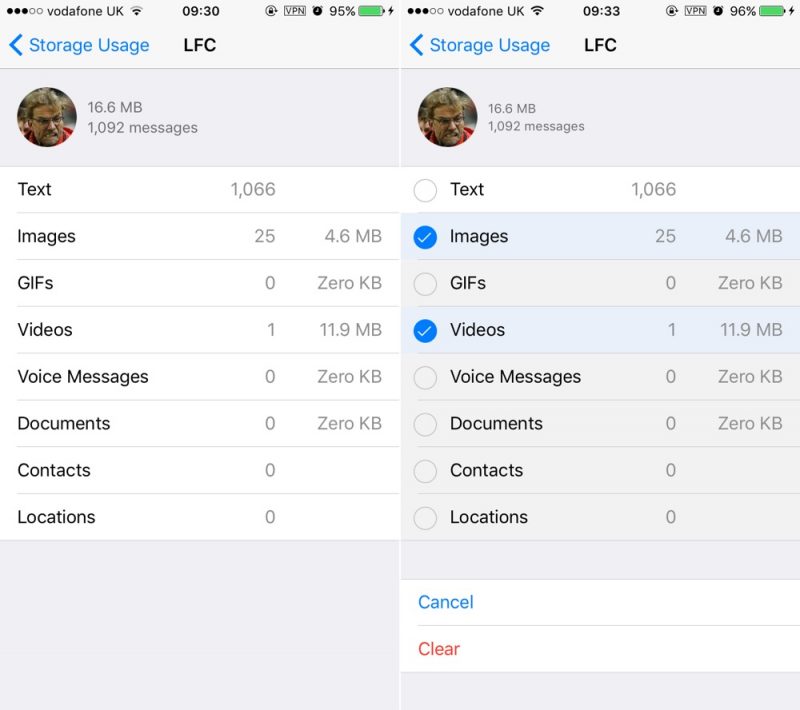 The old storage screen (left); with new management options (right)
Elsewhere, WhatsApp developers have redesigned the storage usage screen, which now lets users manage their phone's storage space by deleting selected message types, such as videos, from specific chat threads. The storage screen options can be accessed by going to Settings -> Data and Storage Usage -> Storage Usage and tapping "Clear Chat".
Lastly, the v2.17.1 update enables users to send up to 30 photos or videos at once.
WhatsApp
is a free download on the
App Store
for iPhone. [
Direct Link
]
Discuss this article
in our forums
... Pubdate: Tue, 24 Jan 2017 01:42:18 PST
Pokémon Go Makes a Late Debut in South Korea Pokémon Go finally launched in South Korea today, almost six months after the popular game's initial launch.

Developers Niantic had to overcome some unique challenges to bring Pokémons to the hugely lucrative gaming market because of the way the game relies on Google Maps to work.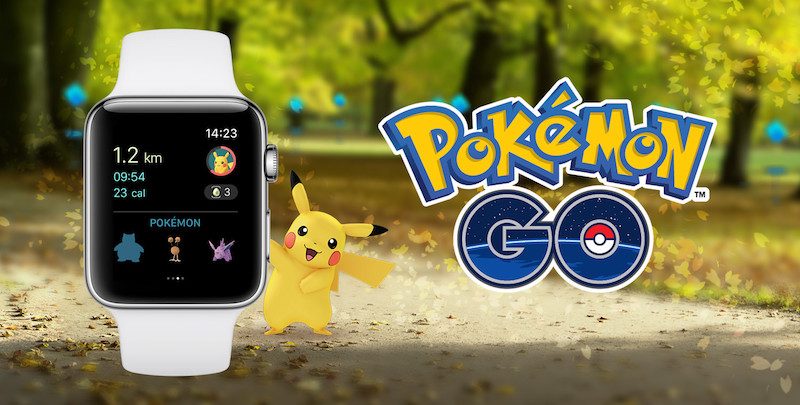 Those functions are limited by the government for national security reasons, because the country is technically at war with North Korea, so Niantic had to use publicly available data sources to fill in the gaps.

Last year, some fans of the augmented reality title travelled to Sokcho, close to the border with North Korea, because the city is not classified as South Korean territory in Google Maps, which allowed the game to be played there.

According to The Associate Press, dedicated tour and travel packages were created for gamers to stay in Sokcho, where local businesses and restaurants embraced Pokémon to appeal to gamers, whose annual average gaming spend is said to be the highest in the world.


Discuss this article
in our forums
... Pubdate: Tue, 24 Jan 2017 00:46:48 PST
Apple Releases iTunes 12.5.5 With 'Minor App and Performance Improvements'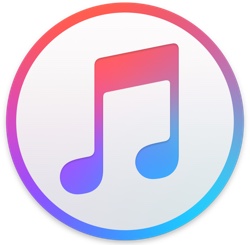 Alongside macOS Sierra 10.12.3, iOS 10.2.1, watchOS 3.1.3, and tvOS 10.1.1, Apple has released an update to its iTunes software for Mac and Windows, introducing iTunes 12.5.5.

Apple does not provide much information on what's included in the iTunes 12.5.5 update. According to the company's release notes, iTunes 12.5.5 introduces "minor app and performance improvements."

iTunes 12.5.5 can be downloaded immediately from the Software Update feature in the Mac App Store. The Windows version can be downloaded using the "Check for Update" feature built into the iTunes help menu.

iTunes 12.5.5 follows iTunes 12.5.4, which was released in December and introduced support for the TV app and the Touch Bar on the new MacBook Pro models.


Discuss this article
in our forums
... Pubdate: Mon, 23 Jan 2017 13:36:32 PST
Apple Again Seeks FCC Approval for Mysterious 'Wireless Device' With Bluetooth and NFC For all of its devices that use communications technologies like Bluetooth, Wi-Fi, and NFC, Apple has to submit them to the United States Federal Communications Commission for approval, and the filings, though restricted, occasionally give hints as to what Apple is working on.

In early January, Apple sought approval for an unnamed "Wireless Device" that features support for NFC and Bluetooth. With a model number of A1846, the device appears to be an iteration of a similar Wireless Device that was submitted for regulatory approval back in September. That device shared the same design but had a model number of A1844.

The A1846 model number is not similar to existing Apple products, unveiling no information. There are no photos of the device itself, but a regulatory label that was on the original A1844 device pictured pointed towards slightly curved edges and two included torx screws. Apple appears to have updated the imagery in the second A1846 submission to give fewer hints on its design.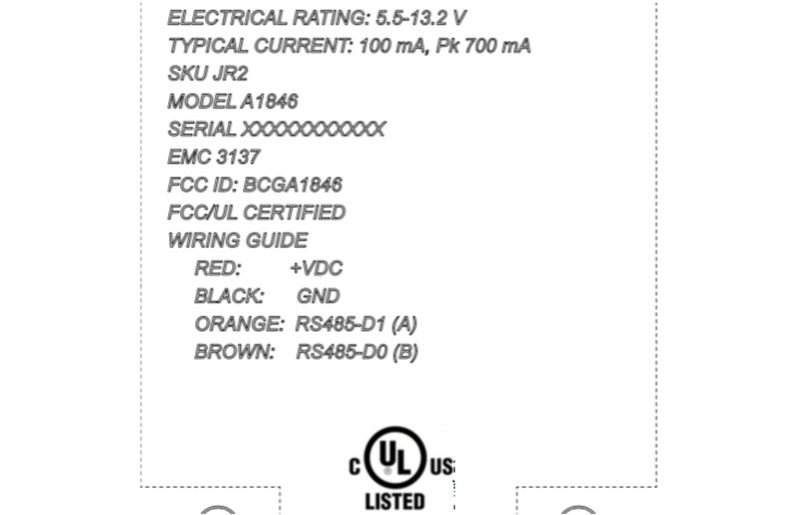 When the original "Wireless Device" was uncovered, there was some speculation that it could perhaps be a new Apple TV, but given the design of the product and the prominent FCC labeling, it's much more likely that this is a behind-the-scenes object that will not see a public release.

Regulatory information is etched directly on the back plate of the device along with a wiring guide, details that are not included on consumer-facing products.

It's possible that the device in question is something that's used in retail Apple stores, such as a product display unit or iBeacon-based equipment used to communicate with customer iOS devices.

Given Apple's secrecy and its request for the FCC to keep all images, descriptions, diagrams, and antenna locations for the device hidden from the public, we won't know more about the device until it's released, and if it is indeed a non-consumer-facing product as we suspect, we may never figure out what it is.


Discuss this article
in our forums
... Pubdate: Mon, 23 Jan 2017 12:52:07 PST
iPhone 8 May Use Apple's In-House Inductive Wireless Charging Rather Than Technology From Energous Over the course of the last year, there has been ongoing speculation that wireless charging company Energous has inked a deal with Apple and could potentially provide wireless charging technology for the upcoming iPhone 8.

While Energous CEO Steve Rizzone has continually hinted that his company has established an agreement with "one of the largest consumer electronic companies in the world," leading people to believe the partner is Apple, a new investor's note from Copperfield Research outlines why Apple has no plans to use Energous' WattUp radio frequency-based wireless charging solution.

Copperfield Research examined multiple inductive charging patent applications filed by Apple starting in 2013, which now number more than a dozen, suggesting the patents are a clear indication of Apple's desire to pursue its own in-house inductive charging solutions for future products. Inductive charging, widely used today, relies on magnetic coils to provide power rather than radio waves.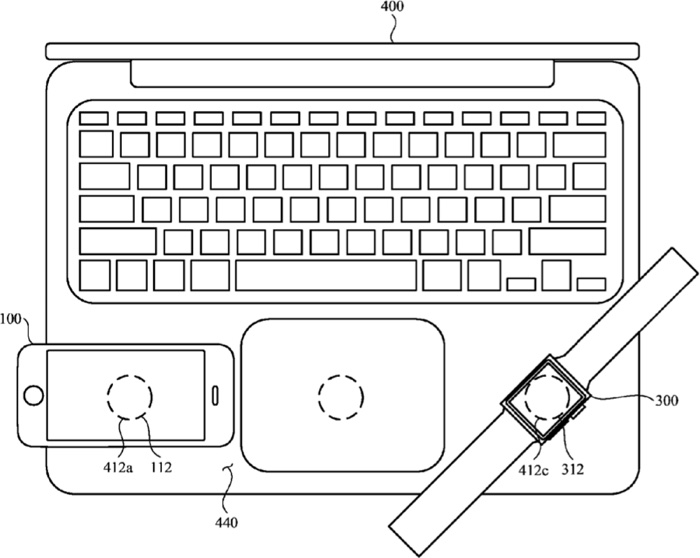 An image from an Apple patent covering inductive charging
The patents by themselves are not a clear indication of Apple's plans, but in
one patent filed in 2011
, Apple makes its feelings on radio frequency-based charging clear, calling it "very inefficient," "not practical," and potentially hazardous. In the interest of full disclosure, however, the patent was filed before any prospective relationship with Energous.
However, this type of radiative transfer is very inefficient because only a tiny portion of the supplied or radiated power, namely, that portion in the direction of, and overlapping with, the receiver is picked up. The vast majority of the power is radiated away in all the other directions and lost in free space. Such inefficient power transfer may be acceptable for data transmission, but is not practical for transferring useful amounts of electrical energy for the purpose of doing work, such as for charging electrical devices. [...]

In addition, such schemes may pose hazards to objects or people that cross or intersect the beam when modest to high amounts of power are being transmitted.
Furthermore, Copperfield Research suggests both rumored design decisions and recent news that Apple has
partnered with Lite-On Semiconductor
for wireless charging bridge rectifiers are indications of Apple's plan to use inductive charging.
Bridge rectifiers, explains Copperfield Research, are used to convert alternating current (AC) to direct current (DC), a component needed for inductive charging and one that would not be necessary should Apple be relying on an all-in-one module from Energous.
Apple's rumored decision to use a glass body also reportedly points towards inductive charging. A glass body would not be required for RF-based wireless charging technology, but is needed for an inductive charging solution.
Adding further credence to Apple's inductive charging roadmap are the consistent leaks from Asian sources that the next iPhone will feature glass casing. Inductive charging does not penetrate aluminum cases effectively, which is the material for the current iPhone casing. One reason Samsung adopted plastic material for its cases is to improve the performance of wireless charging.

A major misperception among tech blogs and WATT investors is that Apple's switch to a glass casing somehow confirms the inclusion of WATT's charging technology. This is ridiculous. The efficacy of RF wireless charging (WATT's technology) is not affected by aluminum or plastic cases.
Many of Apple's inductive charging patents outline the improvements Apple has made in the field over the course of the last few years and give hints as to how wireless charging could work if Apple is indeed developing an in-house inductive charging solution for the iPhone 8.
Patents point towards multiple objects that could provide power, such as a table top with a charging coil built in, a desktop charging station, or even a desktop or notebook computer, which could be used to provide power to an iPhone or iPad. Devices could even share power between one another, suggesting a fully charged iPad could charge an iPhone, or vice versa.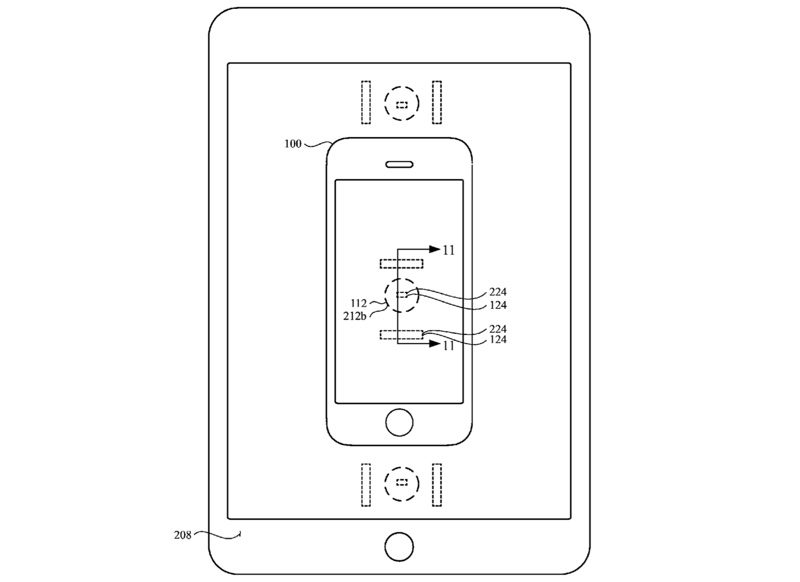 An image from an Apple patent covering inductive charging
Copperfield Research does believe that Apple had a partnership with Energous that gave the Cupertino-based company a way to research radio frequency-based charging without shelling out cash, but concludes that there is an "overwhelmingly conclusive mosaic" suggesting Apple will use in-house inductive charging for the iPhone 8.
Copperfield Research is made up of an anonymous group of researchers that have shorted Watt's stock and may not be entirely impartial, but the evidence they have presented makes a compelling argument for the use of an in-house inductive charging solution rather than a partnership with Energous.
Discuss this article
in our forums
... Pubdate: Mon, 23 Jan 2017 12:08:39 PST
Apple Releases macOS Sierra 10.12.3 With Graphics Fixes for 2016 MacBook Pro Apple today released macOS Sierra 10.12.3, the third update to the macOS Sierra operating system that launched on September 20. macOS Sierra 10.12.3 comes over a month after the release of macOS Sierra 10.12.2, and has been in testing since December 14.

macOS Sierra 10.12.3 is a free update for all customers who are running macOS Sierra. The update can be downloaded using the Software Update function in the Mac App Store.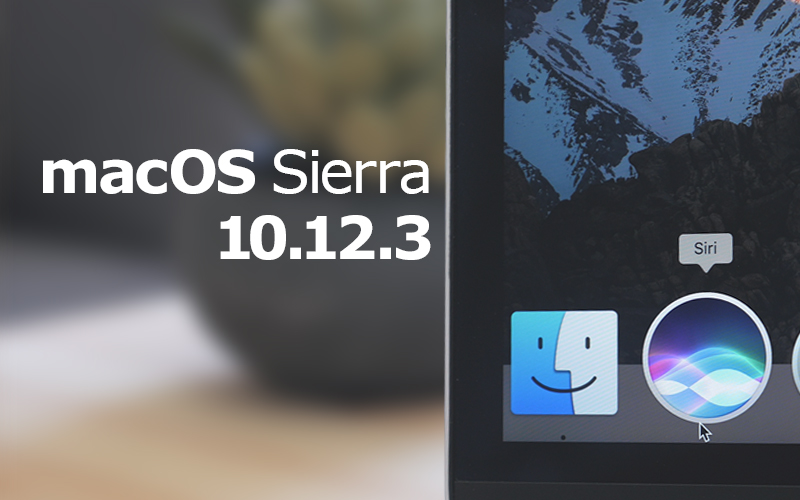 No specific changes, bug fixes, or feature additions were discovered during the beta testing process, and Apple only said the update "improves the stability, compatibility, and security of your Mac." Apple's release notes paint a more complete picture, stating that the update improves graphics switching for the new 15-inch MacBook Pro, fixes issues with Adobe Premiere, and includes important fixes for Preview.
The macOS Sierra 10.12.3 Update improves the stability and security of your Mac, and is recommended for all users.
This update:

- Improves automatic graphics switching on MacBook Pro (15-inch, October 2016).
- Resolves graphics issues while encoding Adobe Premiere Pro projects on MacBook Pro with Touch Bar (13- and 15-inch, October 2016).
- Fixes an issue that prevented the searching of scanned PDF documents in Preview.
- Resolves a compatibility issue with PDF documents that are exported with encryption enabled.
- Fixes an issue that prevented some third-party applications from correctly importing images from digital cameras.

Enterprise content: Resolves an issue were network or cached user accounts (such as Active Directory accounts) using the maxFailedLoginAttempts password policy were becoming disabled.
macOS Sierra 10.12.3 will likely soon be followed by another update, as Apple has been committed to regularly making updates to the operating system since its September release.
Discuss this article
in our forums
... Pubdate: Mon, 23 Jan 2017 10:09:10 PST
Apple Finally Releases New Apple Watch Update, watchOS 3.1.3 Apple today released watchOS 3.1.3, an update that follows the watchOS 3.1.1 update that was released on December 12 but pulled later that same day due to installation issues.

watchOS 3.1.3 can be downloaded through the dedicated Apple Watch app on the iPhone by going to General --> Software Update. To install the update, the Apple Watch must have 50 percent battery, it must be placed on the charger, and it must be in range of the iPhone. An iPhone running iOS 10 or later is required to download the new software, but it is available for all Apple Watch models.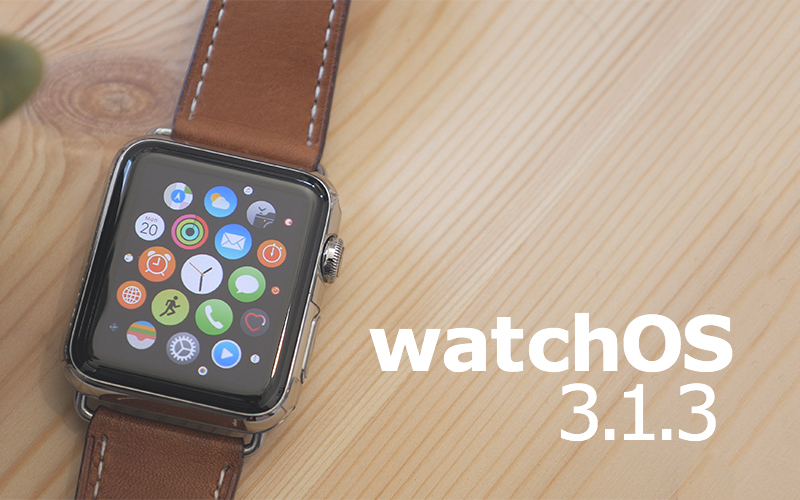 No significant changes or feature additions were discovered in watchOS 3.1.3, but presumably, it fixes the 3.1.1 installation issues that were bricking some Apple Watch Series 2 models, allowing customers who did not get a chance to download 3.1.1 to finally get the bug fixes included in that update.

watchOS 3.1.1 included several bug fixes for Messages, notifications, Activity, Maps, Calendar, and more.

There was no watchOS 3.1.2 update, as Apple appears to have gone straight to watchOS 3.1.3.


Discuss this article
in our forums
... Pubdate: Mon, 23 Jan 2017 10:06:34 PST
Apple Releases tvOS 10.1.1 for Fourth-Generation Apple TV Apple today released a new update for tvOS, the operating system designed to run on the fourth-generation Apple TV. tvOS 10.1.1 comes five weeks after the release of tvOS 10.1, the first major update to the tvOS 10 operating system. Apple only seeded two betas of tvOS 10.1.1 to developers before releasing it to the public.

The tvOS 10.1.1 update can be downloaded on the fourth-generation Apple TV using the Settings app. Go to System --> Software Update to install. For those who have automatic software updates turned on, the Apple TV will be upgraded to tvOS 10.1.1 automatically.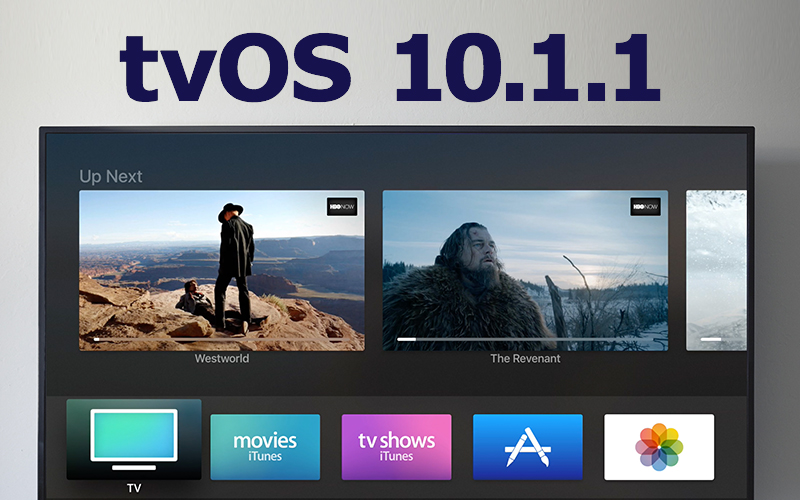 No new features or changes were discovered in the tvOS 10.1.1 beta, but as a 10.1.x update, it's likely to be minor in scale, primarily focusing on introducing bug fixes and performance optimizations.


Discuss this article
in our forums
... Pubdate: Mon, 23 Jan 2017 09:58:39 PST
Apple Releases iOS 10.2.1 With Bug Fixes and Security Improvements Apple today released iOS 10.2.1 to the public following several weeks of testing. iOS 10.2.1 also comes more than a month after the release of iOS 10.2, the second major update to the iOS 10 operating system.

iOS 10.2.1 is a free over-the-air update available to all iOS 10 users. It can also be downloaded and installed on iOS devices using iTunes on a Mac or PC. The update is still rolling out and may not be immediately available on all devices.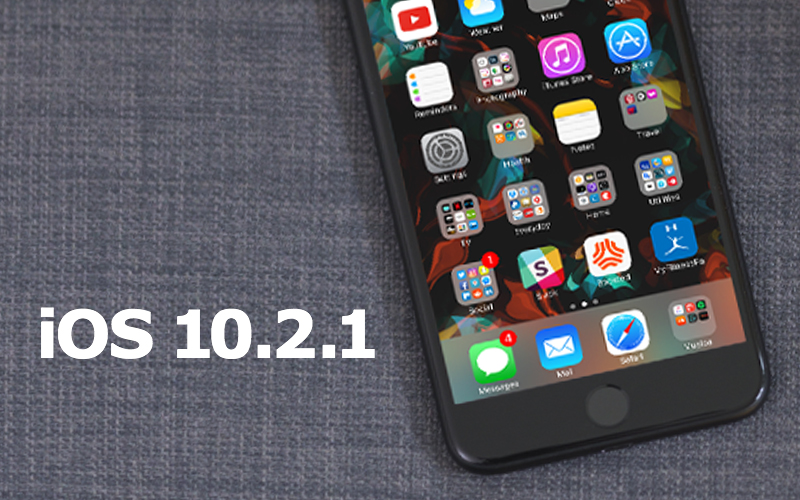 No outward-facing changes or new features were discovered during the beta testing process, suggesting the update focuses on bug fixes and performance improvements. According to Apple's own release notes for iOS 10.2.1, the update brings unspecified bug fixes and security improvements.

The iOS 10.2.1 update will soon be followed by a new iOS 10.3 beta, if rumors are correct. The first iOS 10.3 beta, with a new "Theatre Mode" was rumored to be coming out on January 10, but has not yet appeared.


Discuss this article
in our forums
... Pubdate: Mon, 23 Jan 2017 09:56:47 PST
Sprint Buys 33% of Jay Z's Streaming Music Service Tidal, Plans Exclusives for Customers Sprint today announced that it has acquired a 33 percent stake in Jay Z's music streaming service Tidal, which the carrier said will soon give its customers "unlimited access to exclusive artist content not available anywhere else." Under the deal, artists partnering with Tidal will create music only available to new and existing Sprint customers.

As part of the deal, Sprint's chief executive officer Marcelo Claure will also join Tidal's board of directors. The carrier mentioned that Tidal will continue to function as normal, and Jay Z will remain in charge of the streaming service's artists and music content. In a statement, Jay Z said that Sprint understands and shares Tidal's goal of creating a dynamic and revolutionary addition to the streaming music service industry.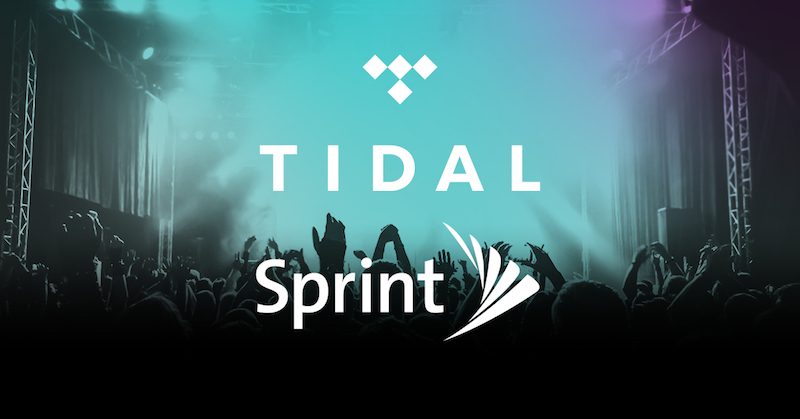 "Sprint shares our view of revolutionizing the creative industry to allow artists to connect directly with their fans and reach their fullest, shared potential," said JAY Z. "Marcelo understood our goal right away and together we are excited to bring Sprint's 45 million customers an unmatched entertainment experience."
Artists under Tidal will gain access to a dedicated marketing fund provided by Sprint, which the carrier says "will allow artists the flexibility to create and share their work with and for their fans." Further information about the Sprint/Tidal partnership will be coming soon.
Apple was thought to be interested in
acquiring Tidal
last summer in an effort to further boost
Apple Music
, but the company eventually
denied
those reports with Apple Music executive Jimmy Iovine saying "we're not looking to acquire any streaming services." Apple Music and Tidal have been competitors since their launch, each promoting
exclusive artist deals
with a rivalry that Kanye West said is
negatively affecting the music industry
as a whole.
Discuss this article
in our forums
... Pubdate: Mon, 23 Jan 2017 06:39:04 PST
Hugo Barra Leaving Xiaomi and Returning to Silicon Valley Next Month Xiaomi vice president Hugo Barra today announced that he will be leaving the Chinese smartphone maker next month.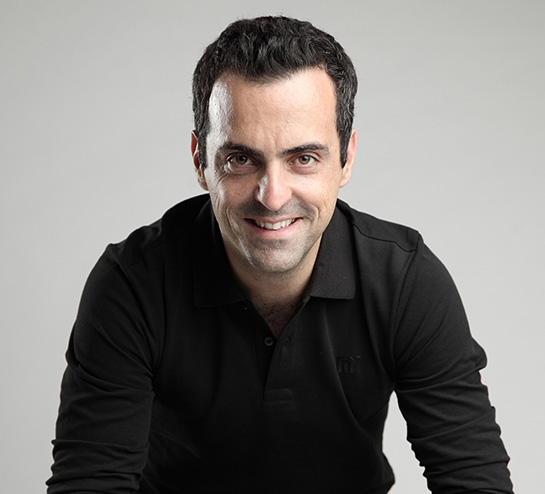 The former senior Android executive at Google said he will be returning to Silicon Valley in February after the Chinese New Year to reunite with friends and family. He described moving to Beijing, some "6,500 miles out of his comfort zone," as the "greatest and most challenging adventure" of his life.
But what I've realized is that the last few years of living in such a singular environment have taken a huge toll on my life and started affecting my health. My friends, what I consider to be my home, and my life are back in Silicon Valley, which is also much closer to my family. Seeing how much I've left behind these past few years, it is clear to me that the time has come to return.
Barra generated headlines in late 2013 when he left his senior position on the Android team to join Xiaomi. As Vice President of International, he helped expand the company's global presence, although it has yet to officially enter the U.S. smartphone market dominated by the iPhone and other Android-based smartphones.
Xiaomi has made inroads in other countries, including India, where it generated $1 billion in annual revenues faster than any company in the country's history. The smartphone maker has expanded into over 20 new markets overall, such as Indonesia, Singapore, Malaysia, Russia, Mexico, and Poland.
As I thought about this late last year, I concluded that Xiaomi is in a very good place on its global expansion path, and if there was ever going to be a good time for me to come back home, that time is now — when I can confidently say our global business is no longer just an in-house startup.
In 2014, Xiaomi rose to become the world's third largest smartphone maker behind Apple and Samsung, but it has since fallen out of the top five vendors, according to the latest data from research firm IDC.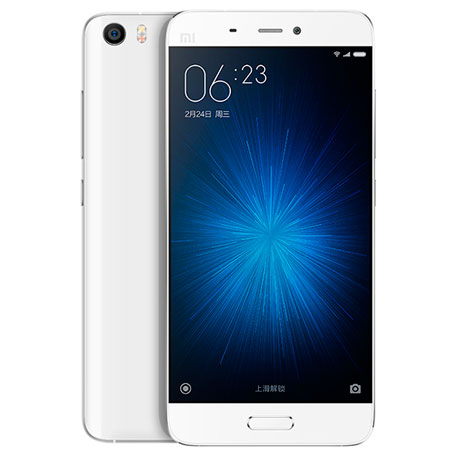 Xiaomi was sometimes described as "the Apple of China" after releasing a number of iPhone lookalikes, which Apple design chief Jony Ive took issue with.
"I'll stand a little bit harsh, I don't see it as flattery," Ive told Vanity Fair in 2014. "When you're doing something for the first time, you don't know it's gonna work. You spend seven or eight years working on something, and then' copied. I think it is really straightforward. It is theft and it is lazy. I don't think it is OK at all."
Barra
defended Xiaomi against the copycat accusations
, claiming "people couldn't bring themselves to believe a Chinese company actually could be a world innovator, could build amazingly high-quality products."
Barra expressed tremendous gratitude for the opportunity he was afforded and said he will now take some "much-needed time off" before "embarking on a new adventure" back in Silicon Valley in the United States. He noted Xiaomi CEO Lei Jun has asked him to remain an advisor to the company indefinitely.
Discuss this article
in our forums
... Pubdate: Mon, 23 Jan 2017 06:02:41 PST
Apple Selects Wistron as First India-Based Supplier of the 2017 iPhone Apple has tapped manufacturer Wistron as the first major supplier in India for this year's iPhone 8, following multiple reports that the company has been looking into manufacturing its products locally in the country. According to a new report from DigiTimes, Wistron will become the first original equipment manufacturer for 2017 iPhones, while Foxconn and a collection of other suppliers are being eyed as back up OEMs "if demand increases."




In a report by The Times of India last month, Apple was said to be looking into building an iPhone manufacturing plant in Bangalore, India with Wistron as a partner. That plant is believed to have production up and running by April and be a major contributor to the Indian iPhone supply chain by the end of 2017.

In today's DigiTimes report, Wistron is specifically mentioned to have expanded smartphone production capacity in both India and China.

Apple has reportedly selected Wistron to be the first OEM in India for new iPhones to be launched in 2017, while Foxconn Electronics and other makers will become second OEMs if demand increases. In preparation for OEM production, Wistron has expanded smartphone production capacity in Kunshan, eastern China, and in India. Wistron chairman and CEO Simon Lin declined to comment.
Apple has been attempting to increase its presence in India throughout the past year, most recently looking into
manufacturing its products locally
, while also
creating
a new distribution center in India to consolidate its logistics and supply chain.
The company asked for tax concessions from the Indian government so it could get its facilities up and running at a smoother pace, but it was
denied
such benefits earlier this month. Still, IT minister Ravi Shankar Prasad said that India will keep an "open mind" for any future incentive requests from Apple.
Discuss this article
in our forums
... Pubdate: Mon, 23 Jan 2017 05:28:16 PST
Apple Investigating Issue With AirPods Randomly Disconnecting During Calls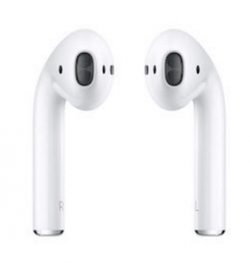 Apple is investigating multiple reports from iPhone owners of AirPods randomly disconnecting and reconnecting during calls, MacRumors has learned.

A MacRumors forum thread and a long thread on Apple's Support Communities website have been generated by AirPods users who are regularly experiencing Bluetooth connection dropouts during phone calls, despite the fact that the wireless earphones almost never lose their connection when used to listen to music or anything else. MacRumors forum member protobiont wrote:

I've had this happen on two phone calls today. I am talking and suddenly the audio switches to the phone, I hear the Airpod connect tones and the audio switches back. This will repeat itself a few times, which is quite distracting during a phone call.
At present, the issue appears to be limited to
iPhone 6s
and iPhone 6s Plus devices, with several users reporting no such problems after upgrading to an
iPhone 7
.
MacRumors
was also unable to replicate the problem on Apple's latest handset.
Initial reports suggested the dropout issue only occurs if users also have an Apple Watch paired to their iPhone, but
MacRumors
was able to replicate the problem with a Fitbit Blaze, suggesting a more general conflict when other Bluetooth devices are also connected.
Unpairing and then repairing the AirPods does not appear to solve the problem, neither does rebooting nor resetting the iPhone. Until Apple offers a solution, users are advised to use only one AirPod for conducting calls, as the dropouts only seem to occur when both earpieces are in use.
Discuss this article
in our forums
... Pubdate: Mon, 23 Jan 2017 03:56:22 PST
Samsung Reveals Extent of Note7 Battery Fire Investigation Samsung held a press conference on Monday in which it revealed the results of its internal investigation into why some of its Galaxy Note7 handsets set on fire. Last week, leaked reports confirmed the battery was to blame, but Samsung took pains today to explain the thoroughness of its investigation, which involved over 700 engineers and data gathered from testing 200,000 phones and 30,000 Note7 batteries.

In addition to enlisting the help of two independent testing labs, the Korean company built a large-scale test facility to automate different charging and discharging scenarios, which was able to replicate the failures of consumer handsets. Absolutely everything was examined, said Samsung, from hardware and software design, to manufacturing and logistics.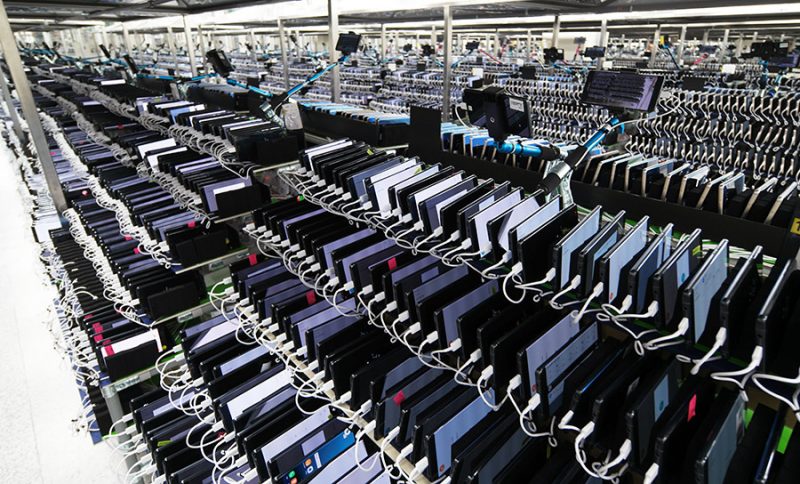 Samsung's Note7 test facility.
Samsung said that two separate flaws were to blame for some batteries setting on fire in both original and replacement phones. The original Note7 battery had a design flaw in the top-right corner that was liable to short-circuit, while the batteries in replacement units were prone to combustion because of a welding defect. Some handsets were also missing insulation tape. For those interested, the company also released an
infographic
explaining the findings in more detail.
Going forward, Samsung said it was introducing an 8-point Battery Safety Check that includes additional inspection and testing. The firm also said it was improving training for all battery handlers across its assembly and shipping chains. In addition, it explained that more space would be allowed around the batteries in its handsets to protect them from impact-related failures, and said it would take steps to improve its battery diagnostic and controller software.
"I [hope] this serves as an opportunity to improve safety of lithium-ion not only for Samsung but for the entire industry," Samsung mobile head DJ Koh told Recode, adding that Samsung takes responsibility for all components of the phone, including batteries made by other Samsung subsidiaries and those bought from outside companies.
Samsung confirmed that the changes would arrive in the forthcoming
Galaxy S8
, but told reporters not to expect its mid-cycle phone to make its usual appearance at the Mobile World Congress, held annually in February. No timeframe was given for the launch of the S8, suggesting Samsung is being careful not to put itself under undue pressure for its comeback after last year's Note7 debacle, which was said to be a result of the company trying to
beat Apple's iPhone 7 to market
.
Discuss this article
in our forums
... Pubdate: Mon, 23 Jan 2017 02:26:59 PST
Yahoo Under SEC Investigation for Not Disclosing Massive Data Breach Sooner Yahoo is under investigation from the Securities and Exchange Commission over its failure to disclose its massive data breaches sooner, according to The Wall Street Journal.

In September 2016, the internet company revealed that an unidentified hacker had stolen the personal data of "at least" 500 million users. Then last month, the internet company admitted that over one billion Yahoo user accounts had been compromised in a hack dating back to August 2013. Information stolen included names, email addresses, phone numbers, birth dates, hashed passwords, security questions and answers.




According to today's report, the SEC is investigating why Yahoo waited years before disclosing the massive data breach, despite the fact that some staff had known about the incident since at least 2014. The SEC has requested documents from Yahoo relating to the hacks in order to decide whether the internet giant could have reported the breach to investors sooner.

Yahoo is currently negotiating a takeover bid by Verizon, who is reportedly seeking a $1 billion discount off an original $4.8 billion buyout agreement because of the hacking revelations. It's unclear what impact the SEC investigation will have on the deal, but Yahoo's share price had already fallen following the news.


Discuss this article
in our forums
... Pubdate: Mon, 23 Jan 2017 01:12:43 PST
iPhone Manufacturer Foxconn Mulling $7 Billion U.S. Display Factory Investment With Apple Taiwanese iPhone manufacturer Foxconn is considering a $7 billion joint investment with Apple to establish a display manufacturing facility in the United States, it was reported on Sunday.

According to the Nikkei Asian Review, journalists who attended Foxconn's annual end-of-year party quoted chairman Terry Gou as saying that Apple is seeking to invest with the firm in a U.S. facility, which will eventually create 30,000 to 50,000 jobs.

The increase in demand for larger display panels makes local production a better solution than shipping from China to the U.S. market, Gou told reporters. In addition to the proposed display facility, Gou said Foxconn plans a new molding facility in the U.S., with the state of Pennsylvania earmarked as a possible location following investment discussions with local officials.

Gou also said that Smart Technologies, a Foxconn-controlled interactive display startup based in Canada, may move south of the border, after U.S. President Donald Trump signaled a possible renegotiation of the North American Free Trade Agreement.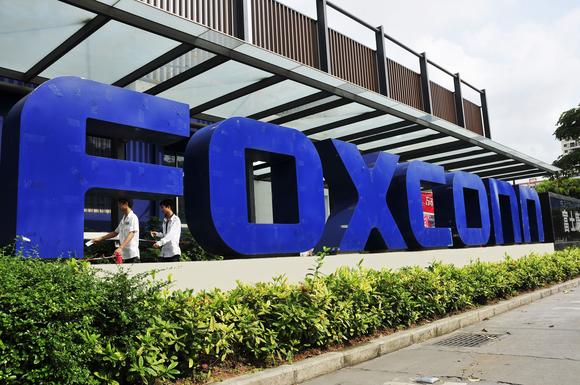 According to reports, Gou said that the rise of U.S. protectionism was an inevitable consequence of the Trump administration, but questioned whether American consumers would be willing to pay significantly more for products as a result.

"In the future they may be paying some $500 more for U.S. products, but those do not necessarily work better than a $300 phone," he said, after urging U.S. authorities to provide concessions on land and electricity to facilitate Foxconn's manufacturing operations.

"Yes, we will continue to add to our investments in China," Gou told reporters. "China is the world's biggest market, and why should we turn down the biggest market?"
Foxconn's facility in Zhengzhou, China, produces over 100 million iPhones every year. Taking into account production from Taiwan and Hong Kong, China was responsible for more than 19 percent of Apple's global revenue in the fourth quarter of 2016.
Rising tension between the U.S. and China could benefit Gou, say people familiar with the tycoon's style. "Foxconn is known to leverage different provinces and countries against each other for better terms," an industry source said, suggesting Gou could pit both countries against each other as both sides courted new investments from the company.
Earlier this week it was
reported
that Foxconn was planning a new facility next to Apple's forthcoming research and development center in the southern Chinese city of Shenzhen. "Foxconn will not leave. Foxconn will stay in China," Gou told reporters in Guangzhou, when asked whether he plans to move existing manufacturing sites to the United States.
Note: Due to the political nature of the discussion regarding this topic, the discussion thread is located in our
Politics, Religion, Social Issues
forum. All forum members and site visitors are welcome to read and follow the thread, but posting is limited to forum members with at least 100 posts.
Discuss this article
in our forums
... Pubdate: Sun, 22 Jan 2017 16:11:49 PST
---